[ad_1]

By Aidil Rusli
Tuesday, 15 Nov 2022 1:50 PM MYT
NOVEMBER 15 ― With October and the Halloween movie season behind us now, finally there's time to check out even more of the horror movies that have dominated internet chatter the last few weeks.
Some I've only managed to watch now that they are finally available on VOD after a run in US cinemas, while some have just been left untouched in my viewing queue due to my still pretty hectic work (and band) schedule.
Most of these films you'll only be able to find on VOD platforms, and with the help of VPN, so if any of these titles strike your fancy, you know what to do!
Terrifier 2
The most unexpected sleeper horror hit of the year so far, Terrifier 2 is a crowd-funded micro-budget (US$250,000 or RM1.1 million) gorefest that started out as a streaming platform exclusive (on Screambox, a smaller platform powered by Bloody Disgusting).
It was supposed to screen in US cinemas for just three nights, yet somehow it became a word-of-mouth sensation that has so far pulled in US$10 million at the box-office, staying in the US top 10 box-office charts for its fifth straight weekend.
It's a huge victory for the micro-budget indie horror scene, especially since it looks and plays like one, with all the shaky/amateurish acting one would expect from such a low budget effort.
It's a huge improvement on the first Terrifier from 2016 though (and no, you don't need to see the first film to enjoy this one), largely thanks to a more focused attempt at crafting and sticking with a narrative (focusing on a pair of young teenage siblings).
It even goes as far as hinting at a backstory for the film's undoubted star character Art The Clown, while also setting up the possibility of a franchise during its post-credits scene, but it's the gore here that totally makes the movie (and which led to audiences flocking to see it ― reports of people vomiting during screenings will do that!), and Terrifier 2 has some of the most incredible practical effects (skulls crushed, eyes gouged, chests crushed, faces slit etc) you'll see in a movie this year.
It's clear where all the budget went, and the movie's all the more astonishing for it.
If you're a gore-hound and can excuse some weak acting from some of the actors, this is pure gold.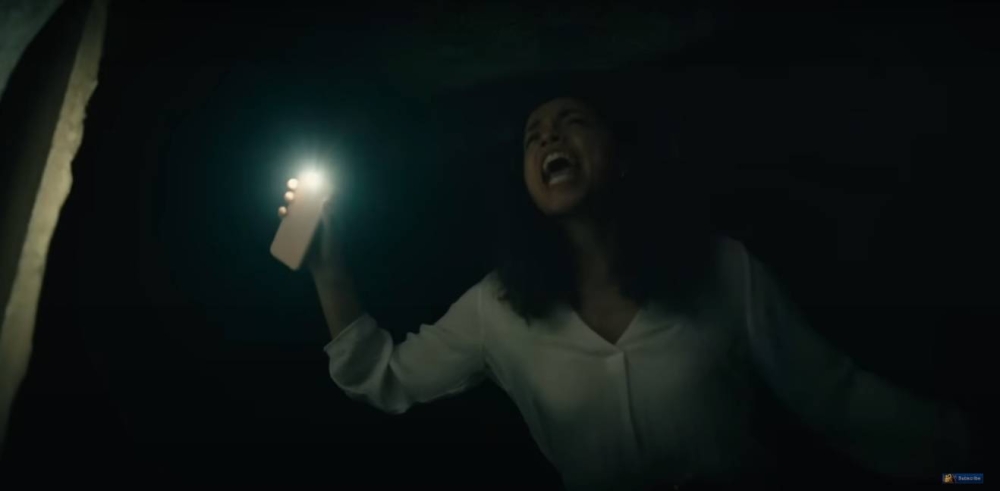 A screenshot of a scene from 'Barbarian'.
Barbarian
Another sleeper hit in the US this Halloween season, grossing around US$41 million in the US and Canada from a measly US$4.5 million budget, this tight little (mostly) single-location shocker has divided opinions, mostly thanks to its logic-challenging third act, but at the very least almost everyone agrees that the film's first two acts are a cracking piece of horror filmmaking.
A breakthrough film by writer-director Zach Cregger (who previously helmed Miss March and The Civil War On Drugs), this is one of those films that delight in wrong footing the audience with plenty of twists and turns and of course some red herrings as well, so to talk about the plot of this movie would be to deny a first time viewer of the absolutely thrilling enjoyment that's in store here.
The only thing I'd give out is that it's about a young woman named Tess (an excellent Georgina Campbell) who has travelled to Detroit for a job interview and has booked an Airbnb rental, only to discover that someone else (Keith, also excellently played by Bill Skarsgard) is already living there.
From then on, it's a series of one dangerous/bad decision after another being made by the characters, especially after a hidden room in the basement is discovered, and where Cregger takes us after that (very expertly, if I may say so), I'll leave it for you to discover.
One of the absolute horror highlights of the year for me.
Deadstream
We all know/follow an annoying internet/YouTube prankster, right? Well, this neatly executed found footage film is about one such character, who's been cancelled because of a scandal that he seems to refuse to address directly.
The hilariously annoying Shawn is played to perfection by co-director Joseph Winter, and in an effort to make a comeback he has foolishly decided to do a livestream of himself staying in a reportedly haunted house for one night, and to make things even more interesting (and to of course please his sponsors), he's promised to run towards any danger and provoke any ghosts/spirits should he encounter any.
It takes a special kind of skill to craft an annoying character that we'd be happy to see experience various forms of comeuppances, but also not annoying enough to make us want to switch off the movie in the first place, and the movie succeeds at pulling this off with flying colours.
A very funny jab at internet fame and a surprisingly effective found footage horror flick all in one, Deadstream will delight fans of the Evil Dead films.
The filmmakers don't skimp on the lovingly gooey practical effects, making this one a hugely entertaining spook ride from start to finish.
Just don't take the movie too seriously, and you'll be more than fine.
* This is the personal opinion of the columnist.
[ad_2]

More