Amina Muaddi, the shoe designer behind Rihanna's Fenty drop, who is she?
Are you having trouble deciding which shoes to go with your outfit?
Amina Muaddi, the designer who dazzled Rihanna with her incredible creations, may be able to assist you.
Amina, like RiRi, has a vast list of celebrity clients and even her own business that is reinventing women's footwear.
So, who exactly is Amina? Let us tell you about it!
 MEET AMINA MUADDI
Amina, 36, has established herself as Hollywood's go-to lady for innovative footwear.
The designer and businesswoman is noted for designing a line of shoes for a lot of celebrities under her own name-brand.
Amina grew raised in Italy, half-Romanian and half-Jordanian. Although the skilled designer has worked as a celebrity stylist in the past, she has solely focused on shoes since 2012.
Amina co-founded the Milanese shoe business Oscar Tiye, although she has always dreamed of having her own brand. She has a full-fledged range of designs by 2017.
WHERE DID SHE MEET RIHANNA?
Jahleel Weaver, Rihanna's stylist, introduced Amina to the singer.
Amina's designs quickly won the musician's heart, and she hired her to make shoes for her Fenty collection.
Amina told Harper Bazaar, "Fenty came out to me because Ri loved what I created and she was wearing my shoes and rocked them brilliantly."
In another interview with Vogue, Amina praised the singer, saying, "She's such a wonderful lady." When she first created her own company, she gave me some Fenty items, which make me feel incredible. You have that swagger, like if you're channelling Rihanna."
Other celebrities that like Amina's trademark kick-flare shoes include Dua Lipa and Kendall Jenner.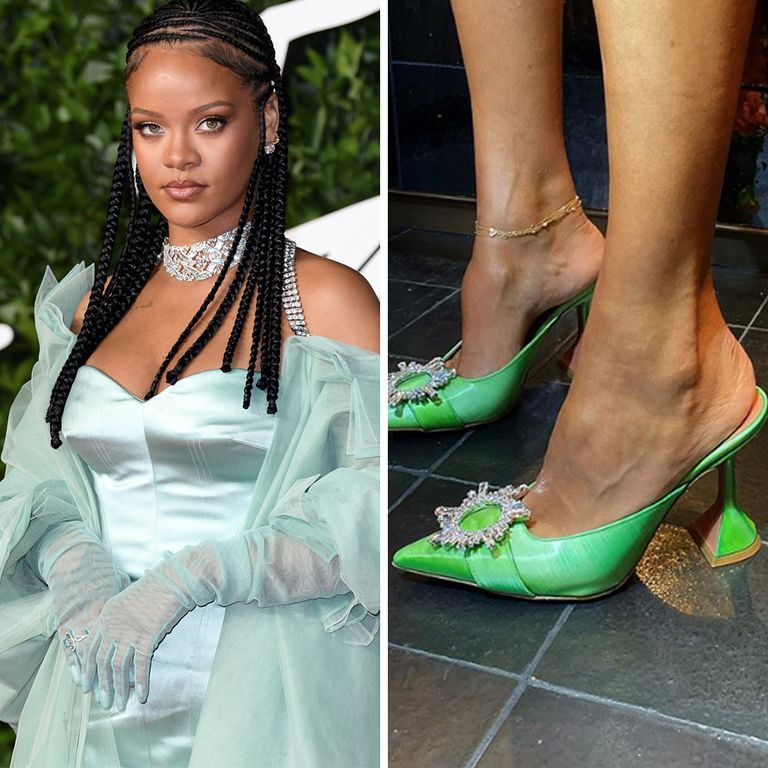 AN INSTAGRAM VIEW OF THE SHOE DESIGNER
Amina's Instagram has over a million followers, and she has a lot of celebrities wearing her creations.
Her most recent post shows Rihanna in an Ursina pump while pregnant. She shared a photo of Kylie Jenner in her bespoke high boots, which she wore to the premiere of The Kardashians earlier this week.
Amina, who is a star in her own right, has published numerous breathtaking photos of herself wearing brand clothing and shoes.
Examine the images for yourself.
WATCH: Fenty X Amina Muaddi 7-20 drop luxury shoe